The Art of Zhen, Shan, Ren (Truth, Compassion, Tolerance) International Exhibition is an extraordinarily moving, intimate and inspiring exhibition detailing both an inner spiritual life and an outer human rights tragedy. Realistic oil paintings and Chinese watercolours from mostly Chinese artists give a unique insight into the spiritual discipline Falun Gong, also called Falun Dafa.
Truthfulness, Compassion and Tolerance are the most fundamental characteristics of the universe, the cornerstones of human morality, and the foundation of peace and freedom. It transcends time and space, culture, religion, and politics.
Since antiquity people have probed the mysteries of life, man's place in the natural world, and human existence. Traditional Chinese culture advocates harmony between man and nature, opportune timing, and favorable terrain.
Some artists choose to explore the meaning of life. Their work glorifies the divine and grapples with questions of good and evil. Their creative endeavors do not merely please the senses. These artists seek a higher wisdom and truth.
In other words, they don't create art for art's sake, but as a way to unravel and spread truth. Their art transcends earthly beauty and purifies the human soul. This is art that stands the test of time.

A diverse group of artists created the pieces in this exhibit. Through practicing Falun Gong, an ancient Chinese meditation practice, they have improved physically and mentally and deepened their understanding of life and the universe. They have found their "true self."
Their cultivation practice answers a lifelong search for the greater meaning of art and life. This exhibit shares their understandings and personal experience.
The Truth, Compassion, Tolerance Art Exhibit has toured more than 40 counties and 200 cities worldwide since its debut in July 2004 at the Rayburn House, U.S. Congress Building, in Washington, D.C.
The oil on canvas exhibit is an artistic world inspired by the beautiful ancient meditation the artists have in common – Falun Dafa.  Immersed audiences in the positive energies illuminating from the artwork, which depicts true stories of Falun Dafa practitioners: savage suffering, triumphant courage, and enduring beauty.
View more
Works of art
Artists featured in the exhibit all practice Falun Gong (also known as Falun Dafa) and hold the three principles sacred. Falun Gong is a spiritual self-cultivation practice of mind and body that helps improve health and purify the spirit. It is practiced by millions around the world whose goal is to return to their original, true selves (a self that's free of notions and attachments).
Through the practice, these artists have come to realize that the purest and most beautiful form of artistic expression is through the orthodox arts.  Unfortunately, Falun Gong is now persecuted in China, where practitioners like these artists suffer a brutal campaign of intimidation, propaganda, and violence.  Some of the artists featured in this exhibit have personally experienced suppression and imprisonment as a result of the persecution.
View more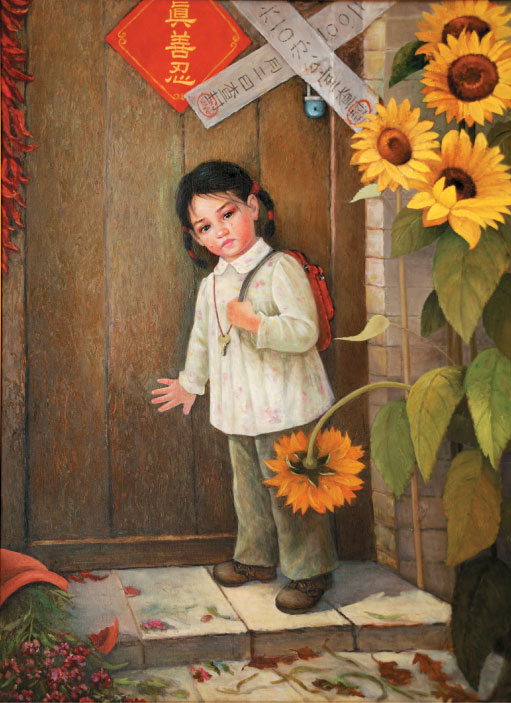 This painting depicts a scene in which a little girl comes home from school only to find her parents gone. The two pieces of white paper on the door are official notices stating that the house has been condemned by […]
Chen Zhengping 陳正平   
Watercolor & Acrylic on Canvas
水彩.丙烯顏料.畫布
55"x 110"  英寸  2004
The Creation of the Exhibition
The Art of Zhen Shan Ren (Truthfulness, Compassion, Forbearance) International Art Exhibition was created by a group of accomplished artists using classical and academic painting techniques. Canadian Artists Xiaoping Chen, Kathleen Gillis, and Kunlun Zhang are the founders of the exhibition, which features award-winning pieces from NTD TV International Figure Painting Competitions.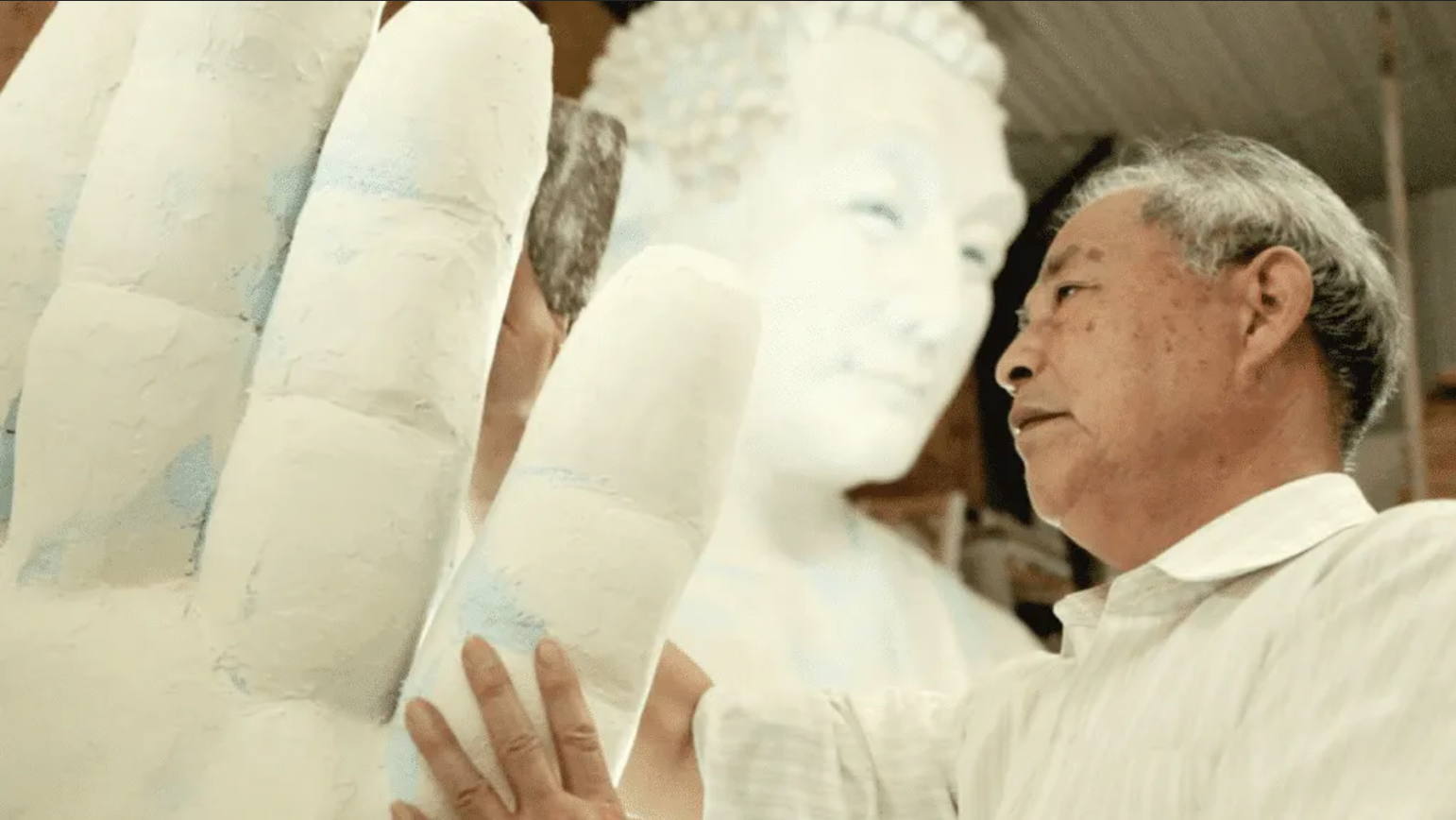 2004
2004
The Origin
The Truth, Compassion, Tolerance Art Exhibit has toured more than 40 counties and 200 cities worldwide since its debut in July 2004 at the Rayburn House, U.S. Congress Building, in Washington, D.C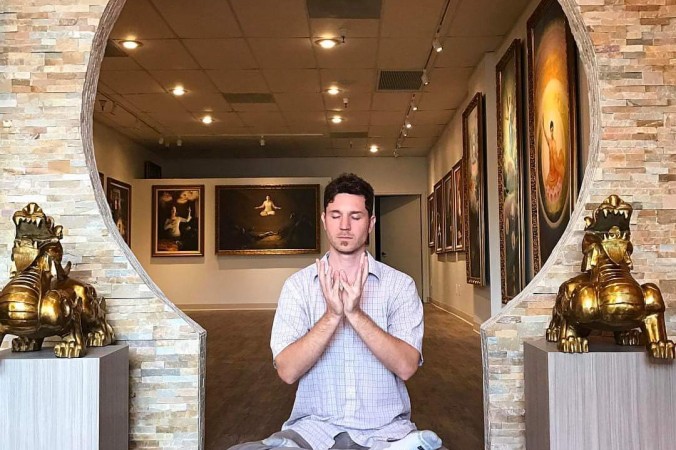 2017
2017
New home
Art of Zhen Shan Ren Museum Opens in Arizona. The Art of Zhen Shan Ren International Exhibition" received acclaim in 900 cities and 50 countries as it toured across Europe, the Americas, Australia, and Asia. It is now receiving its first permanent home, with 20 of the exhibit's paintings installed in the newly built Art of Zhen Shan Ren Museum in Tempe, Arizona.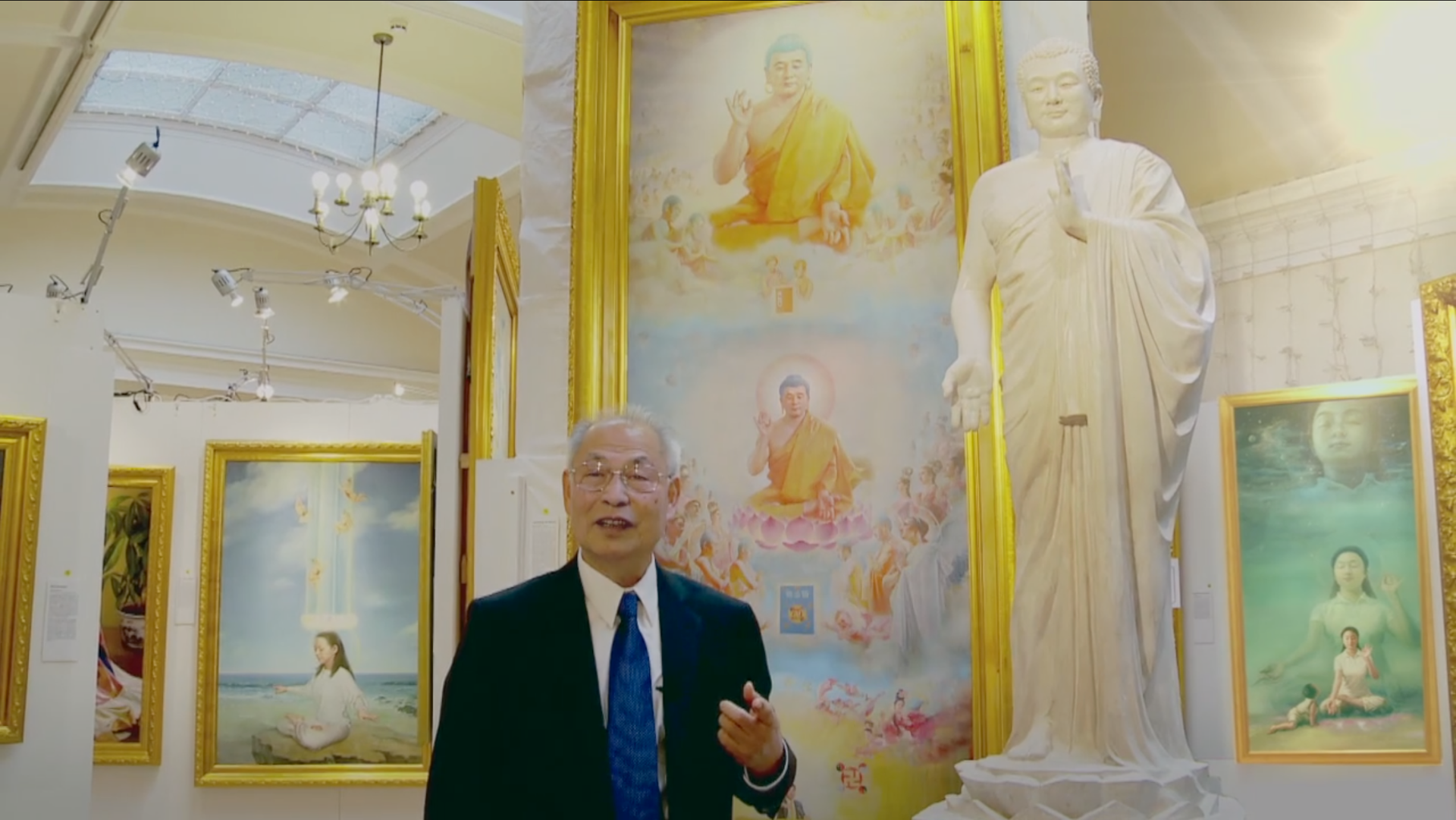 2020
2020
The Art & Tradition
Since its debut in July 2004 in Washington, D.C. at the Rayburn House and at the U.S. Congress building, the exhibition has toured over 900 cities, in over 50 countries, with over 800 shows and has inspired millions of viewers.
We are all searching for truth, for ourselves, and for this world. I'm deeply touched by the belief behind this cultivation practice. You truly and fundamentally bring justice to everyone.
We won't yield to any pressure. We always respect and support freedom of expression, and I support people's use of art, not violence, to express their opinions. This exhibition is of high quality with a strong message, and thus will attract many people.
This is the best classical arts I have seen. Words cannot describe how precious these paintings are. As a local artist, I am proud to see such wonderful paintings on display here.
Meet the Artists
The Art of Zhen-Shan-Ren (Truth-Compassion-Forbearance) consists of works from internationally acclaimed artists and includes award winning pieces from the NTDTV International Figure Painting Competition. The exhibition has toured over 900 cities in 50 countries worldwide. The artworks offer a view into a world of inner beauty, strength and wonder that is inspired by the peaceful meditation practice Falun Dafa. The works also reveal an ongoing persecution by the Chinese regime. The Falun Dafa practitioners depicted show their inner strength as they meet injustice with courage, whilst upholding the universal values of Zhen (Truth) Shan (Compassion) Ren (Forbearance).
The Art of Truth, Compassion, Tolerance consists of works from over twelve artists. Their backgrounds are varied and diverse in terms of professional experience, artistic styles and cultural upbringing. What they have in common in their practice of Falun Gong is united in an effort to express the myriad of experiences of living in it.
(Minghui.org) Practitioners held the Art of Zhen Shan Ren (Truthfulness-Compassion-Forbearance) Exhibition again at Balboa Park on September 16, 2023. They introduced Falun Dafa (also known

(Minghui.org) The Art of Zhen Shan Ren (Truthfulness-Compassion-Forbearance) International Exhibition was held in the Krasny Kit shopping and recreation center in Mytishchi, Russia, on August