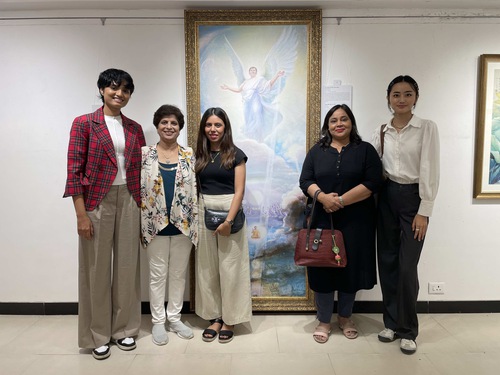 Mumbai, India: The Art of Zhen Shan Ren Exhibition Delivers a Message of Hope and Courage
(Minghui.org) From July 20-23, the Falun Dafa Association of India brought The Art of Zhen Shan Ren (Truthfulness-Compassion-Forbearance) International Exhibition to Jehangir Art Gallery in Mumbai for four consecutive days. Twenty-five artworks showed the benefits of practicing Dafa, exposed the Chinese Communist Party's (CCP) persecution, and depicted practitioners' uncompromising courage in the face of brutality.
Despite the heavy rains during India's rainy season, a continuous stream of people visited the exhibition. The artworks attracted people from all walks of life, including government officials, artists, doctors, lawyers, reporters, TV celebrities, students, teachers, tourists, and families. The exhibition was praised by visitors who said they found it very informative and were deeply moved by the stories of hope and courage depicted in the artworks.
The Art of Zhen Shan Ren Exhibition was held at the Jehangir Art Gallery in Mumbai from July 20 to 23, 2023.
Aaj Tak TV station covered the exhibition at the Jehangir Art Gallery in Mumbai.
Actress: The Whole World Needs to Know about the Persecution
Indian TV actress and model Suchitra Pillai explores the Art of Zhen, Shan, Ren Exhibition.
Suchitra Pillai, a model and TV actress, was brought to tears by the paintings. She said that these pieces were "incredible" and "get straight to your heart.
"The one with the orphan made me cry," said Pillai. "It got me thinking that people around the world actually go through things like this for their beliefs and still stick to their faith. It proves that the human spirit can do anything and is above everything. The whole world needs to know about this persecution, about the practice, and what practitioners have endured to keep the practice alive."
She found the persecution "shocking" and was appalled by the fact that it has been going on for 24 years. She said. "As an artist of another medium, where we get to portray other people's lives, it's shocking to think that humans are doing this to other humans even in this day and age."
She was accompanied by a friend, Manraj Singh Sharma, who is also a TV actor. Sharma's mother practices Falun Dafa, so he was familiar with the practice and the persecution. He supports practitioners in upholding their faith and said that their values are something that can connect people.
"The message of Truthfulness and Compassion resonates with a lot of people, especially through mediums like art and music. It's something that people should be aware of and I'm fortunate that, because of my mother I'm put in this place," he said.
Sharma also admired the courage of the practitioners in China and hopes that more people will soon rally behind them to stop the persecution. "Practitioners are brave enough to take a stand. The persecution is still going on and I hope through such events we can spread more awareness and stop these atrocities," he said.
"A small step can make a big change"
Model and actress Andrea Kevichusa (first on right) along with friends and Falun Dafa practitioners at the exhibition.
Andrea Kevichusa is a model and actress from northeast India. She visited the exhibition and was very moved by the theme of good versus evil conveyed in many of the paintings. "One word that comes to my mind is justice. Those practicing Truthfulness-Compassion-Forbearance are being persecuted simply for their beliefs," she said.
She was also thankful to attend the exhibit so that she could be informed of such an important issue going on in the world today. "I am glad that this gallery has organized this exhibition because a small step can make a big change," she said.
Monk: "Truthfulness-Compassion-Forbearance is the way to move forward."
A monk views the artworks.
Several monks came to view the artworks. One said he was happy to encounter Falun Dafa in the form of fine art. "A few of us monks met Falun Dafa practitioners four to five years back, at Bodh Gaya. We like Falun Dafa since it is based on the principles of Truthfulness-Compassion-Forbearance," he said.
"I am saddened to learn how the communist government of China is persecuting Falun Dafa practitioners. This practice should be introduced in a fast-paced city like Mumbai where people need it the most. Society will change, people will change, and their lives will be filled with peace, compassion, and forbearance. They will be inspired to live a truthful life."
Retired Scientist: "It is shocking to see how the Chinese Communist party is persecuting the followers of Falun Dafa."
Mr. Manjunath, a retired scientist from Bhabha Atomic Centre, visited the exhibition.
Mr. Manjunath, a retired scientist from Bhabha Atomic Centre, has lived in Mumbai for 65 years. He is also a theater artist who sings and acts, and as a fellow artist, he respects what he said are the artists' brilliant expressions of the human spirit. "Once you see Falun Dafa paintings, you will feel how proud a human being should be for he has the power to protest whenever there is persecution," he said.
He also commented on how the paintings illustrate practitioners' steadfast faith despite the suppression. "It is shocking to see how the Chinese Communist Party is persecuting the followers of Falun Dafa. The paintings are beautiful, with clarity, and ingrained with a lot of faith. With faith, you can face any persecution and bring solace to human life."
German Tourist: "This is a real historical event. It's not only about art."
Nina from Germany, listens as a tour guide introduces the artworks.
A tourist from Germany, Nina, said she visited the exhibition because she is interested in art. When she learned the story behind the pieces, she was moved to tears by the fact that these pieces were based on true events. "This is a real historical event. It's not only about art, but they use art as a means of communication to talk about these real current events in the world. I've not heard about this (persecution) before but through art it has got my attention and made me aware."
Nina said that she hopes that more and more people will help raise awareness about the persecution after seeing the paintings, "I'm shocked that the persecution is still going on and I don't really have words to express this. I thought that the world was more developed and more educated, but as we can see these things are still happening."
Actor: The Paintings are Moving
Indian TV Actor Sandeep Gaikwad.
Sandeep Gaikwad is a TV actor who works in the local Marathi-language film industry. He said that the exhibition was "beautiful," and felt sympathy for the suffering of the practitioners. "It is really sad followers of such a beautiful and good practice are being persecuted for the last 24 years. I am very inspired by all the paintings mainly because the practitioners did not give up their faith and continue to practice in spite of such a severe persecution. It displays a higher level of tolerance."
Gaikwad said that more and more of the world will soon learn about Falun Dafa and the persecution, despite the CCP's cover-up. "No matter how much you try to suppress the truth about persecution, it will eventually come out and with a bigger force. It is our duty to spread this message further," he said.
General Manager: The CCP Should Be Condemned
Jagesh Somkhwar (first right), Deputy General Manager of Production at Oil and Natural Gas Corporation attends the exhibition.
Jagesh Somkhwar, Deputy General Manager of Production at Oil and Natural Gas Corporation (ONGC) criticized the CCP's inhumane treatment of practitioners in China. "I'm very shocked to learn about this persecution. The paintings depict such brutality, even to women and children. The kind of torture, brutality, and inhumane treatment done to Falun Dafa practitioners is highly condemnable," he said.
He said that he respected the practitioners for "creating a good atmosphere in society for peaceful co-existence," because "peaceful co-existence is very important for humanity." He hopes that practitioners in China will one day be able to practice freely.
Lawyer: "The paintings have so much light."
Lawyer Jayesh Minde at the exhibition
Jayesh Minde was moved by what he said was the positive energy behind the paintings. "I love the paintings, they have so much light," he said. He also said that he could "feel the pain of the followers of Falun Dafa" through their art. "This is the first time I've heard about it and I'm completely shaken to the core by the brutality innocent people have had to face in China. I'm very happy that I'm here and got to learn something new and I wish all the best to the practitioners of Falun Dafa," he said.
READ FULL ARTICLE: https://en.minghui.org/html/articles/2023/8/9/210701.html